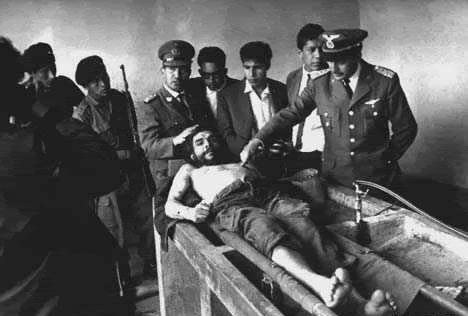 He just won't lie still, will he?
Career-wise, getting killed in Bolivia at age 39 (see the declassified documents reporting all the details
here
) was the best move Che could have made. If he had made it back to Cuba he would probably be in the same nursing home as Fidel Castro today, the two of them trying to remember their glory days of show trials and firing squads while nurses spoon soft food into their mouths.
Che avoided that pathetic fate by being re-branded from a failed revolutionary into an enduring image of adolescent revolutionary romanticism, thanks to the famous
photo shot by Alberto Korda
in 1960, seven years before he was killed.
The British art historian
Martin Kemp
identifies that Korda photo as one of the most iconic images of all time in a book to be released next month,
Christ to Coke, How Image Becomes Icon
:
Christ to Coke is the first book to look at all the main types of visual icons. It does so via eleven supreme and mega-famous examples, both historical and contemporary, to see how they arose and how they continue to function. Along the way, we encounter the often weird and wonderful ways that they become transformed in an astonishing variety of ways and contexts. How, for example, has the communist revolutionary Che become a romantic hero for middle-class teenagers?
Here's the face that sold a million tee-shirts:
Call me crazy, but doesn't that photo bear a certain resemblance to that other great cultural product of the 1968, Planet of the Apes? There is definitely a stylistic similarity.